A Common Pornography - Kevin Sampsell - HarperCollins, 2010
Quick (enthusiastic) review: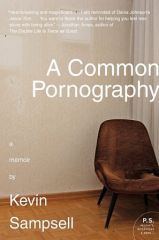 A disturbing true-to-life account of the maze of feelings and youthful experiments that turned a disoriented white trash kid into an inquisitive, obsessive, self-conscious and extremely horny teenager and ultimately into an accomplished writer of the Real. This collection of vignettes are like a series of - at times goofy, at times tragic or nostalgic - postcards from Small Town, USA. With an unsympathetic yet understanding gaze devoid of resentment or cruelty, Sampsell weaves together a collection of weirdos, losers, freaks, monsters-and-victims-in-disguise - most of whom are his own kin - thus offering a vivid portrait of the redneck human zoo where he was born and raised. In a humorous yet respectful tone, the author draws, hands shaking with embarassment, emotion and pain, the tortuous yet fascinating family tree of his wounded and pathetic tribe. A Common Pornography could be deemed the pen-to-paper equivalent of Jonathan Caouette's daunting, haunting and heart-rendering 8mm autobiographic documentary, Tarnation. Just like him, Sampsell proves that because you come from the gutter does not mean you cannot look at the stars, and extracts the twisted, deranging beauty that sometimes oozes from the ugly.
Mini note de lecture (en français) :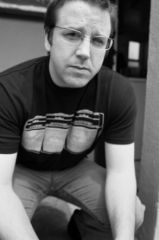 A Common Pornography, c'est l'autobiographie décalée de Kevin Sampsell, auteur américain également éditeur chez Future Tense Books depuis 1990, issu d'une famille white trash particulièrement trash. Ce récit initiatique cru, poignant et dérangeant est fragmenté en vignettes, sortes de polaroids littéraires qui oscillent entre tragique, comique, auto-dérision, nostalgie et vibrent d'une rage sourde, d'un désir de dire (à défaut de comprendre) la barbarie ordinaire qui sévit dans les petites villes américaines, à l'ombre de la bannière étoilée (inceste, violences, frustrations et addictions en tout genre, racisme extra et intra-familial, consanguinité). Généalogie du pire, sinistre archéologie sexuelle et sentimentale, à travers la métamorphose d'un enfant perturbé en adolescent mélomane (un peu), lubrique et nihiliste (beaucoup) puis en écrivain du Réel, Kevin Sampsell parvient à extraire la beauté, cruelle et fascinante, qui émane parfois du sordide.

Goodies*:

--> Check out this hilarious promo video for A Common Pornography by Kevin Sampsell!
--> Take a look at Kevin Sampsell's website and at Future Tense Books's website.